A few days ago, I was going around to different sites looking for idea's on what can be done or what we can improve on, and I started noticing that a lot of these sites had a "Timeline" mod that showed a bit of history about their company/clan and it got me thinking, that this may be something I like to have on my site, so I can get rid of the History thing I wrote many years ago. So yesterday, I started working on a Timeline module and it's starting to take on a life of its own. I have a little animated image to show you where I am at.
Just note that this is my test site and it's all hard coded now, but that will be soon changed.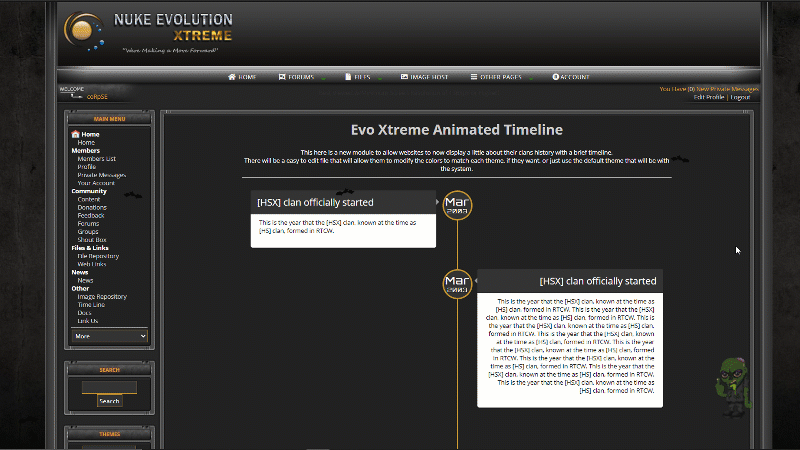 As you can see in the image, it is responsive, and the theming can be customized to what ever theme you are using. You will be able to put a style.css file into a specific folder in any theme you have and change the coloring so anyone using that theme, will have the look that you assign for that theme. Of course there will be a default as well so if you don't have a custom look, it will use its own.
You can see the example of it working on this site now.
Last edited by coRpSE on Mon Dec 07, 2020 1:29 pm; edited 2 times in total
Up Date:

This project is moving along quite well.
The back end is almost done. I pushed my limits with the jQuery and Ajax. I have been doing a lot of research and trial and error on things I never have done before.
The front end is all hard coded, but I think I can bang that out in a day. I am hoping to maybe have a beta version of the module in a week or so.

I should have an animated gif or a short video done later. It's 4am ATM, so I will hold off until later.
---
Update:

I know it's been a bit since I posted an update, and I like to inform all of you to the status of the module. Where I am at with the module is, I just released my 2nd test version for final checking. installer, front and back end done. I also added a few animations to the css file for you to use, along with instructions on sitting up the system to be themed for each of your themes. If all goes well with these test, release should be right around the corner.
---
Module has been released.
---